School Oral Health Program obtains Canadian Accreditation with Diamond Status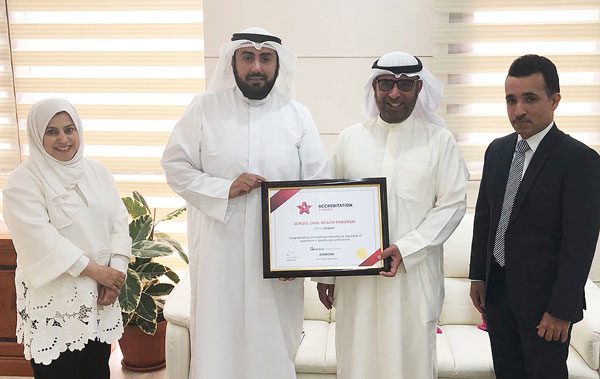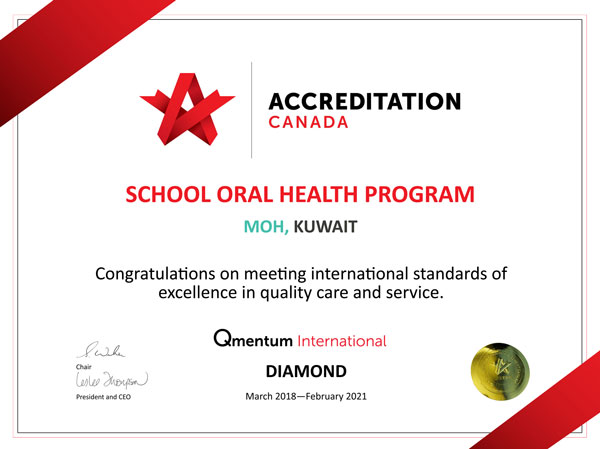 The minister of health Sheikh Dr. Basel Al-Sabah announced that 6 centers of School Oral Health Program (SOHP) has obtained the highest level of the Canadian accreditation (Diamond) for the superior health services from the Accreditation Canada (AC) which is responsible for improving the quality of health services.
Minister said that SOHP is a unique program offering oral health education, prevention and treatment to more than 300,000 government school children aged 6-14 years. SOHP has almost 235 dental clinics distributed in service centers, school based clinics and mobile clinics.
He said that SOHP is the second dental organization to obtain accreditation in this region after the dental centers in Dubai. It becomes the first in Kuwait and first in the world as a community-based dental program.
SOHP started working on Accreditation since May 2017 and has transformed its services especially in quality and patient safety.
The Accreditation Canadian (AC) is an independent, non-governmental organization, affiliated to the Health Standards Organization (HSO). It works with patients, decision-makers and society to improve the quality of health and social services for all.